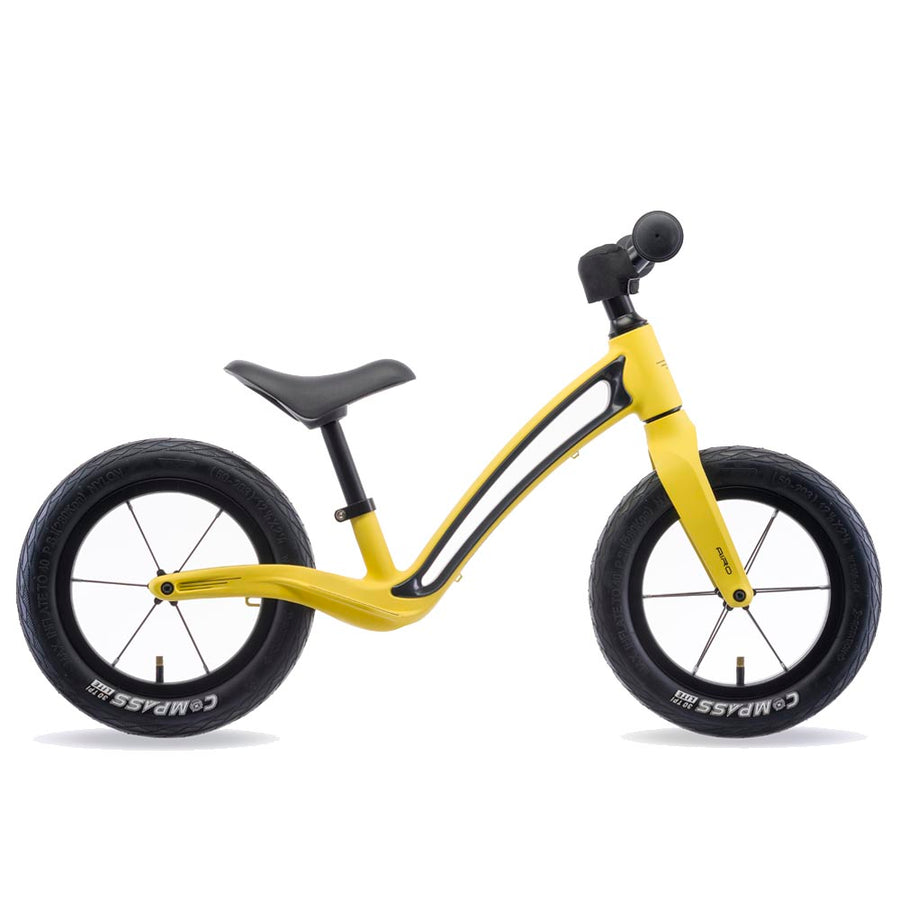 AIRO 12" - Magma Red
Thanks to its fiery glow, the Magma Red AIRO looks hot to the touch! Watch them grow more confident every ride as they discover freedom on two wheels. Sleek, matte, and made from an ultra-tough magnesium alloy frame, the AIRO weighs in at just 2.95kg, making it the hottest balance bike in town. The AIRO's grip taped footrests are contoured into the frame making it easy to freewheel down alleys, race around the park or shred it over the bumps on the BMX track!
LIFETIME WARRANTY
We offer a free lifetime warranty on the AIRO's frame and forks. See the lifetime warranty registration page for more information.
Click here for more information
Not all balance bikes are created equal
Weighing just 2.95kg starting your little one out on their cycling journey is easier for them than ever before! Thanks to the AIRO's incredibly lightweight, ultra-hard-wearing magnesium alloy frame they can effortlessly propel themselves along.
Lighter on the wallet than any comparable balance bike, the AIRO is superior on every meaningful measure.

The AIRO features footrests which have been stylishly contoured into the frame and the air-filled rubber tires on aluminium rims make for a smooth free-wheeling experience. The neoprene padded stem provides additional safety, while the fully adjustable seat makes it perfect for ages 18 months to 5 years (with a recommended inside leg of 11.8" to 18.1" / 30-46cm).
In addition, sealed bearings mean that the wheels are better protected against road debris and the elements. Zero-maintenance and available with a lifetime warranty, the AIRO will be the first step into the world of cycling for your budding mini champ!

Lighter than all 23 comparable competitors. We searched long and hard for a lighter balance bike and the only ones we found one were made with plastic wheels and uncomfortable foam tires. Not all balance bikes are created equal.
6 FUNKY COLOURS
Choose between Flamingo Pink, Magma Red, Orca White, Hammer Yellow, Tuvalu Turquoise, or Iguana Green and then marvel at the magic of your little one going from tentative first steps to gnarly rider on their first bike.
LIFETIME WARRANTY
We are so confident in the quality of the AIRO frame and forks that we offer a lifetime warranty meaning all your children will be able to start their cycling journey on the same bike! See the lifetime warranty registration card included in the box for full details.
Award Winning
Further Information
Technical Specifications:
| | |
| --- | --- |
| SUITABLE FOR AGES | 1.5 to 5 years |
| WEIGHT | 2.95 kg |
| RECOMMENDED INSIDE LEG MEASUREMENT | 30cm to 46cm (11.8" to 18.1") |
| COLOURS | Available in 6 Colours (Red, Pink, White, Yellow, Turquoise, and Green) |
| STEM | Aluminium, 55mm extension |
| SADDLE HEIGHT | Adjustable saddle height from 29cm to 44cm (ground - saddle top) |
| MAINTENANCE | Maintenance Free |
| WHEEL SIZE | 12.5" |
| FORKS AND FRAME | Magnesium alloy |
| TYRES | COMPASS (W3108) 12.5" * 2.25" black (actual width for CLUG mtb 47mm (1.85")) |
| VALVES | Schrader. Valve caps have been removed on our AIRO range as they are a choking hazard |
Frequently Asked Questions
The correct seat height should have the child sitting on the Airo's seat, with feet flat on the ground, with a slight bend in the knees. For long-distance striding on smooth surfaces, you can raise this slightly. For obstacles, tricks, and off-road riding, the saddle should be adjusted for slightly more bend in the knees.
Quality is important to us, that's why we use proper rubber tyres for a super smooth riding experience (rather than cheap solid foam tyres which make for an uncomfortable ride).
Maintaining the correct tyre pressure will help to extend the life of your tyres, improve safety and ensure a smooth ride. Both the front and back tyres on the Hornit Airo should be inflated to 20-30 PSI (1.5-2.0 BAR).
The Hornit AIRO has been toy safety tested for a child of 18 months+ and so the valve caps had to be removed in accordance with the EN71 toy regulations as they present a choking hazard.
Hornit in the wild!
#Hornit on your photos for the chance to feature on our Instagram.
Total 5 star reviews: 353
Total 4 star reviews: 16
Total 3 star reviews: 2
Total 2 star reviews: 0
Total 1 star reviews: 0
99%
would recommend these products
Reviewing

AIRO 12" - Magma Red

Top quality

We got this bike for my son's 2nd birthday and we could not be happier. He was wobbly for the first couple days and now he just flies on it! It's such a sleek, smooth ride that I think it's the reason he has gotten so good on his bike. Thanks Hornit for making a great , first bike! It will last for a long time!

Reviewing

AIRO 12" - Magma Red

Super

Super little bike that is perfect for little legs

Reviewing

AIRO 12" - Tuvalu Turquoise

Great bike

Such a lovely first bike. My baby loves it and I think we'll be keeping it forever! It's like a work of art as well as a bike!

Reviewing

AIRO 12" - Hammer Yellow

Great bike!

Really lovely, light weight, great bike! Would recommend
Reviews Loaded
Reviews Added