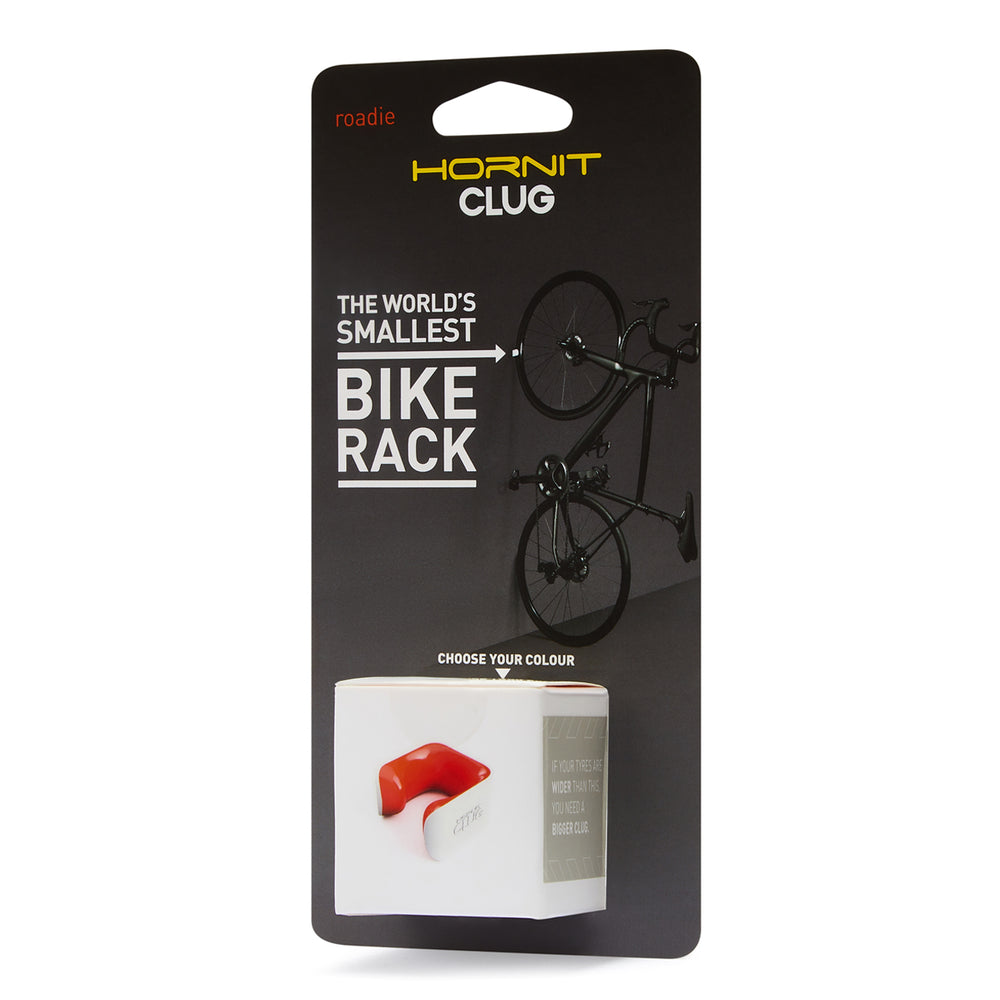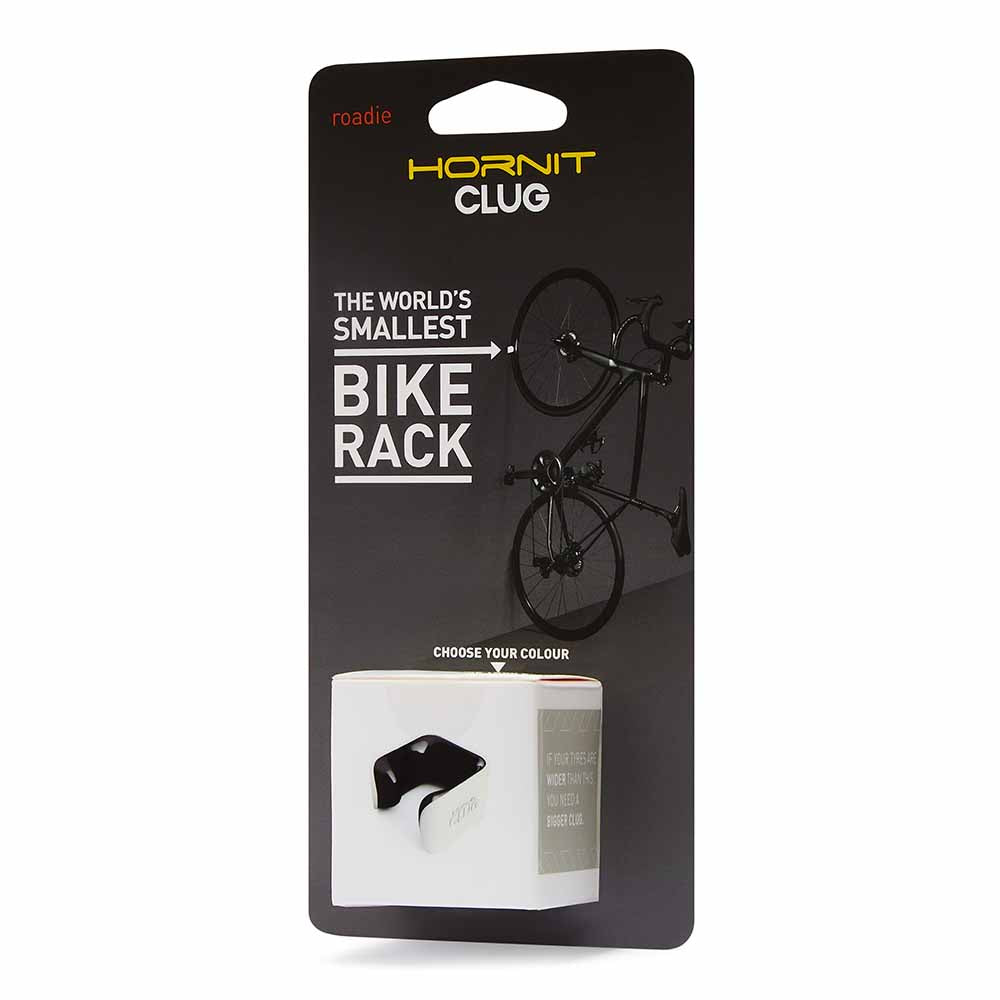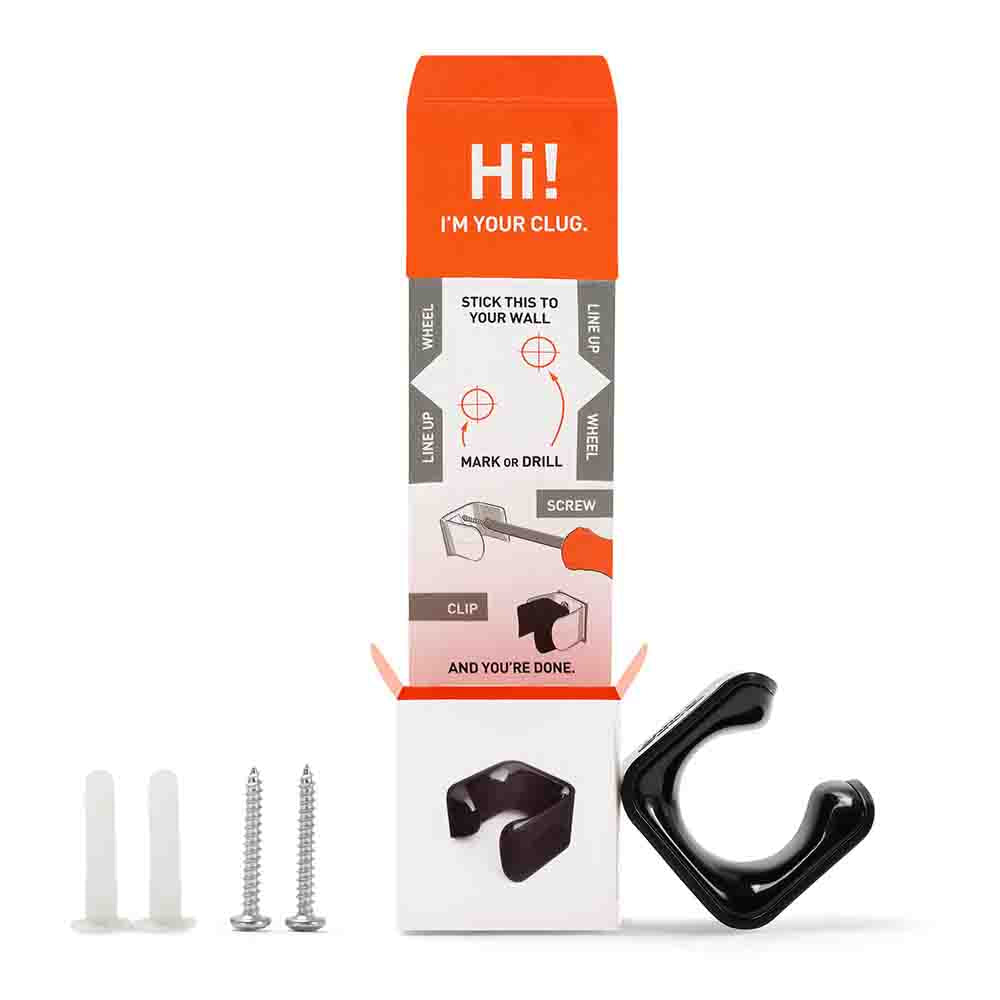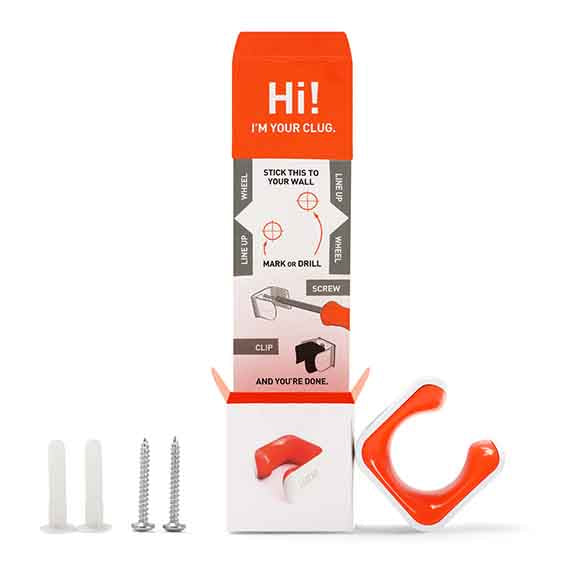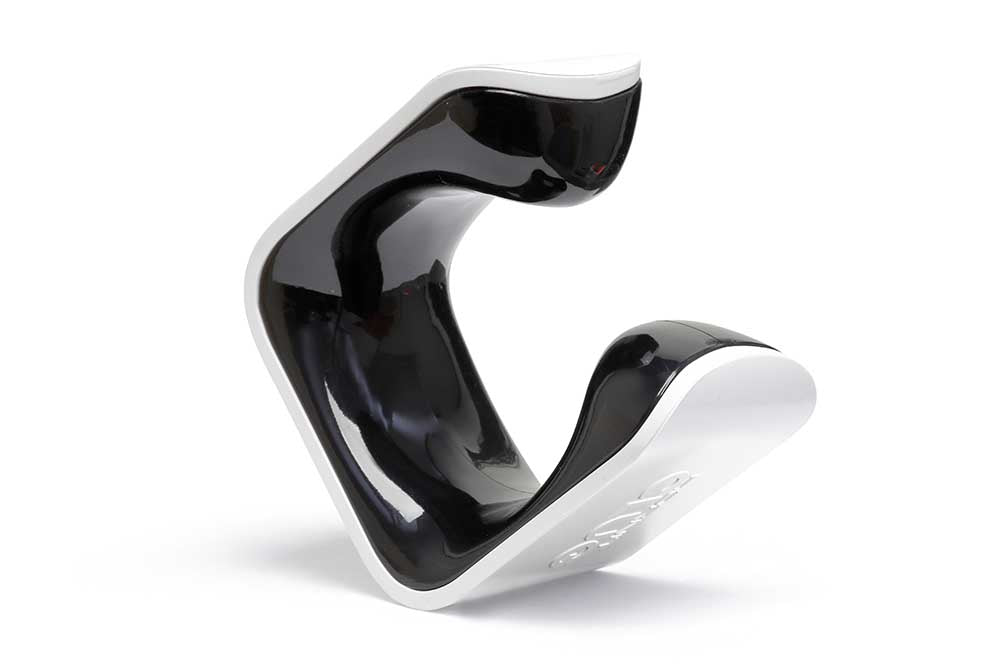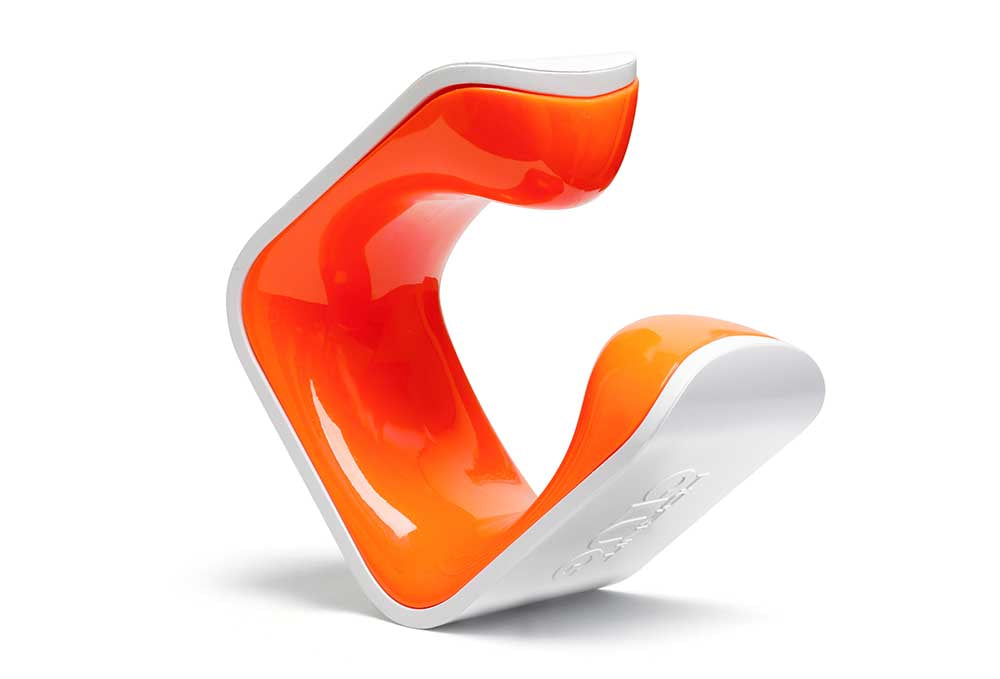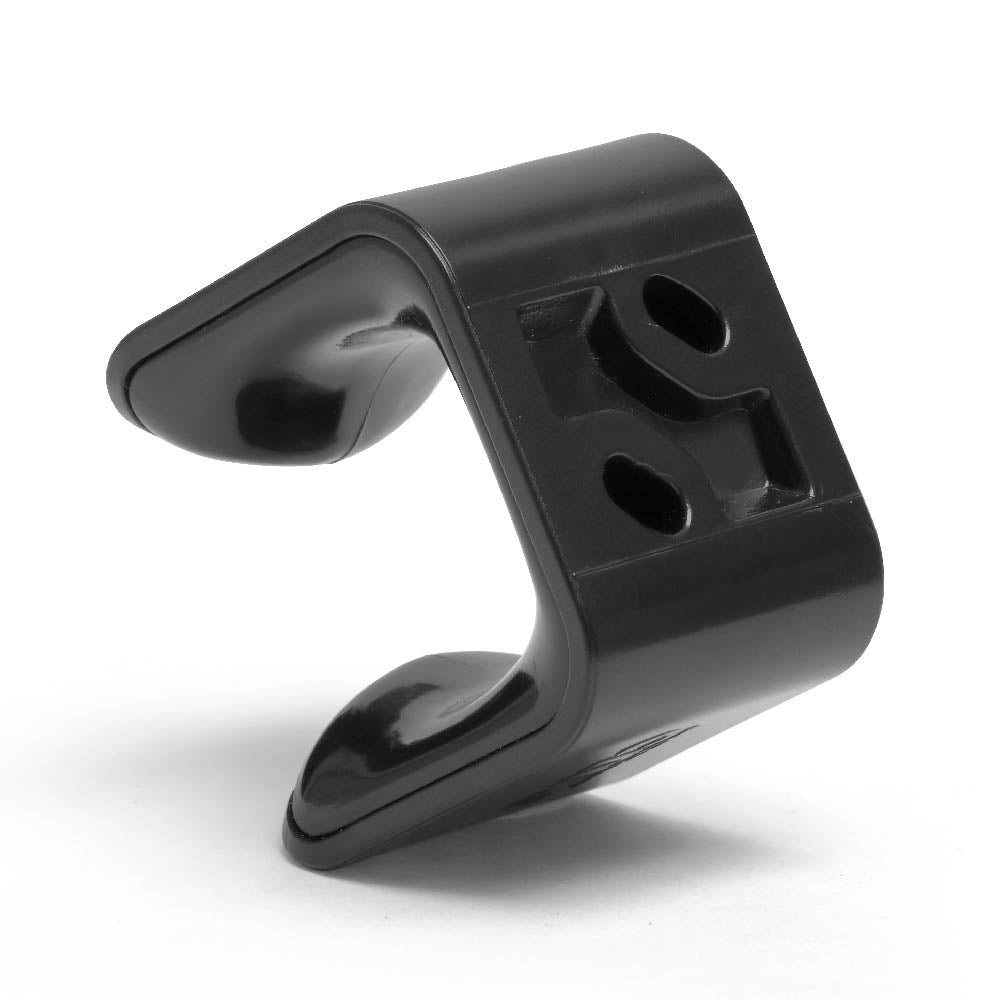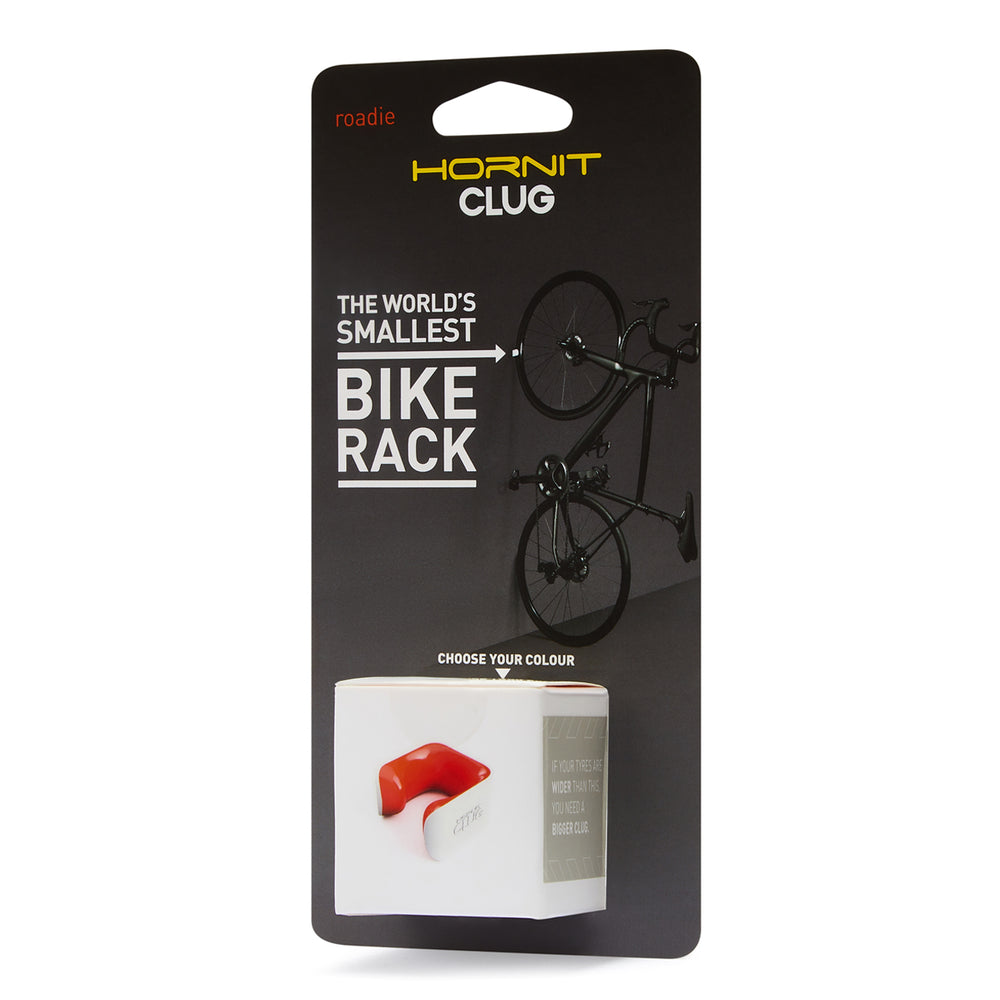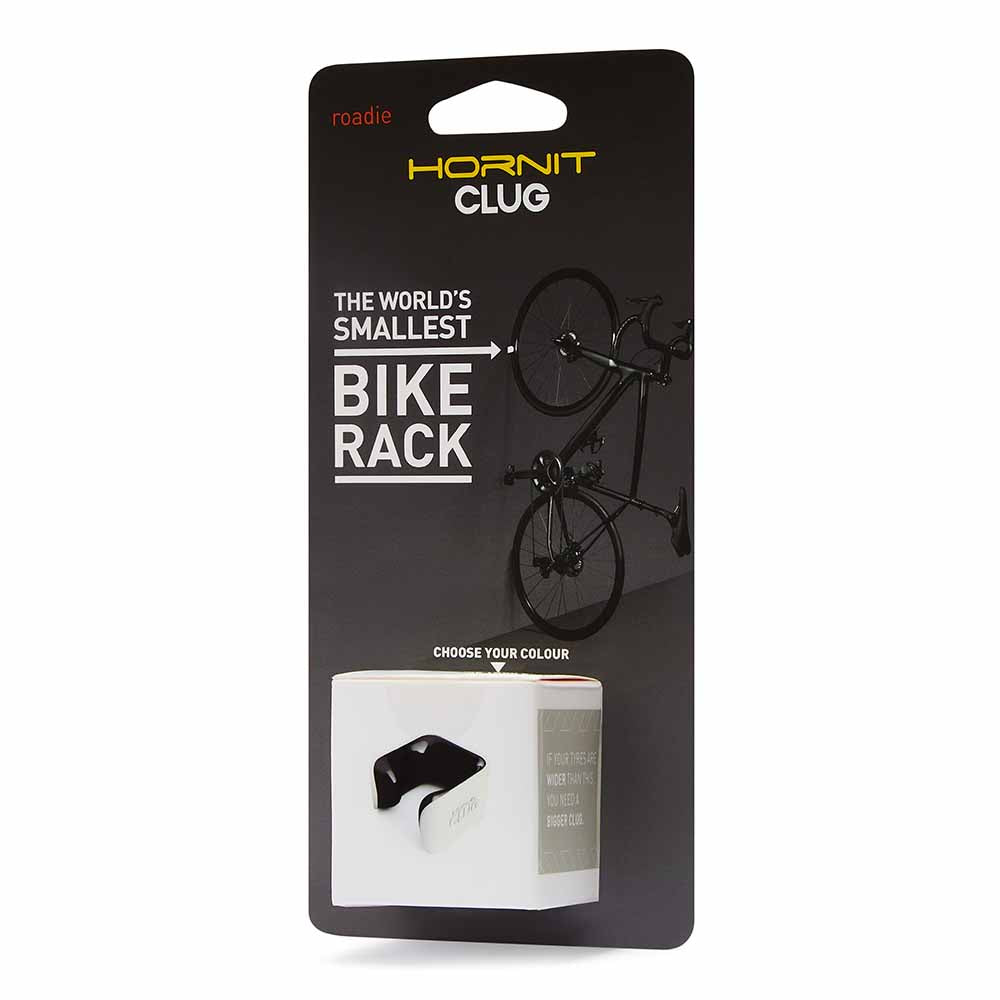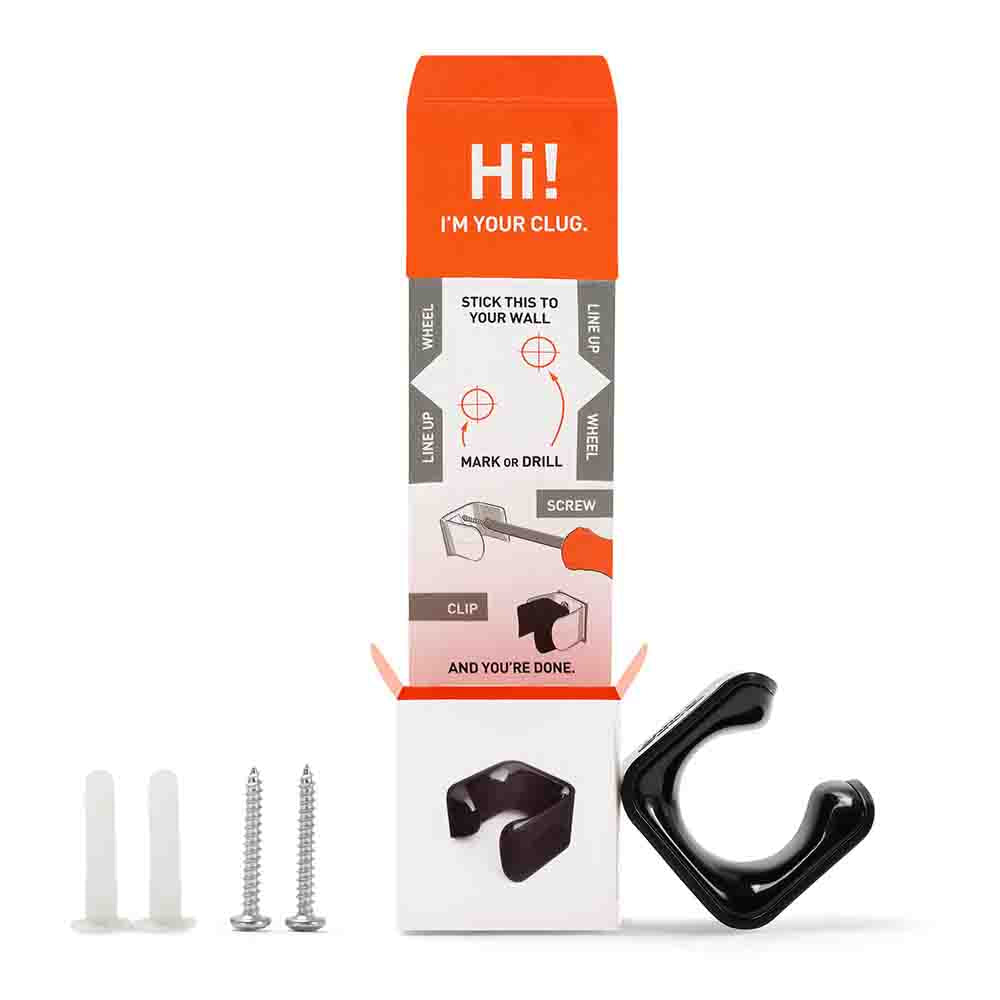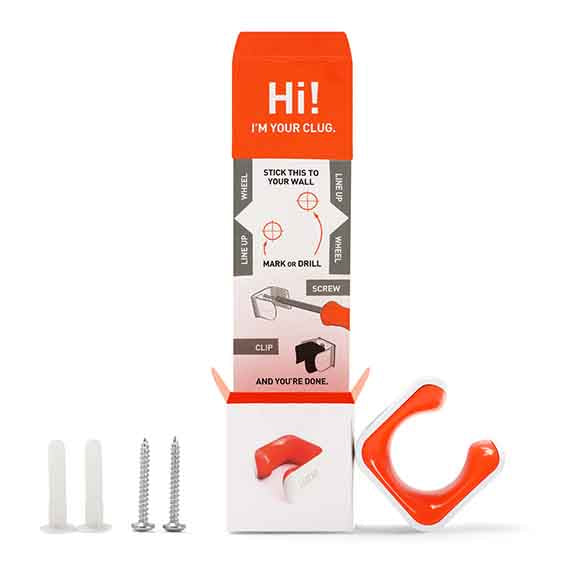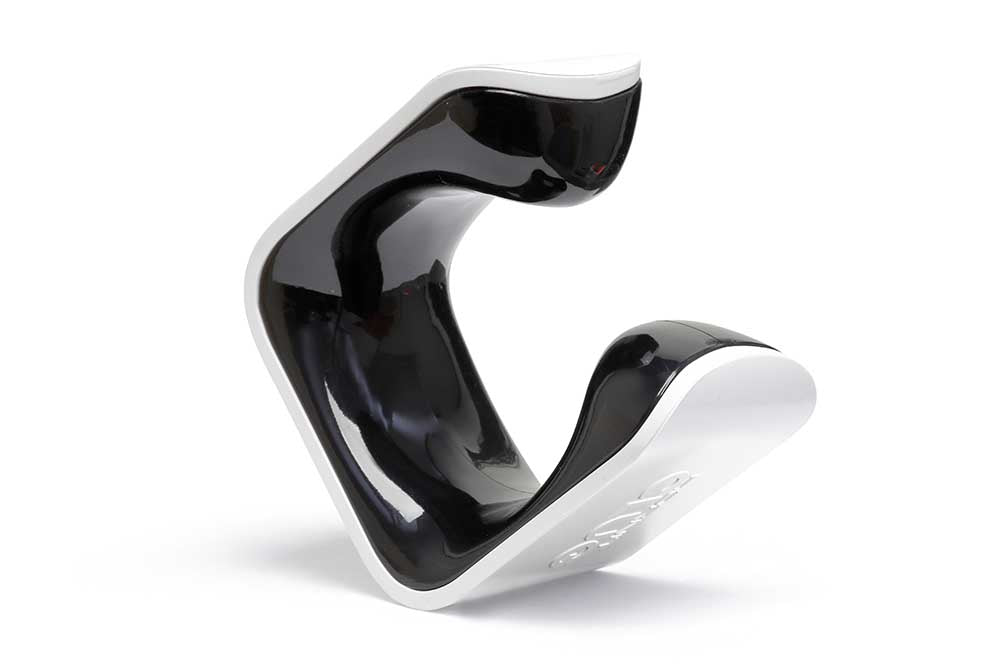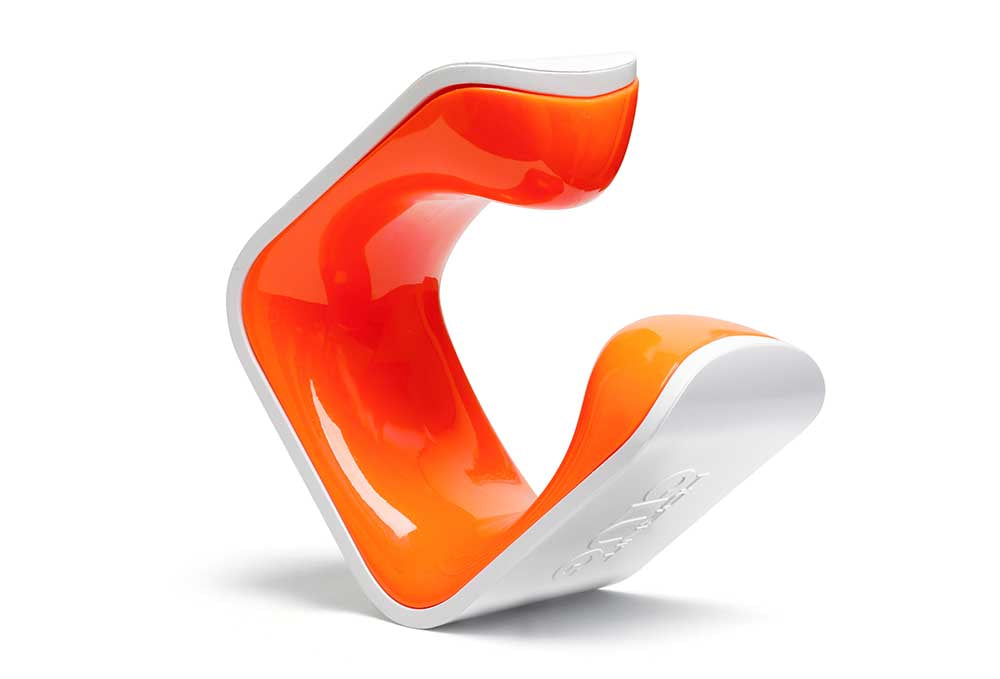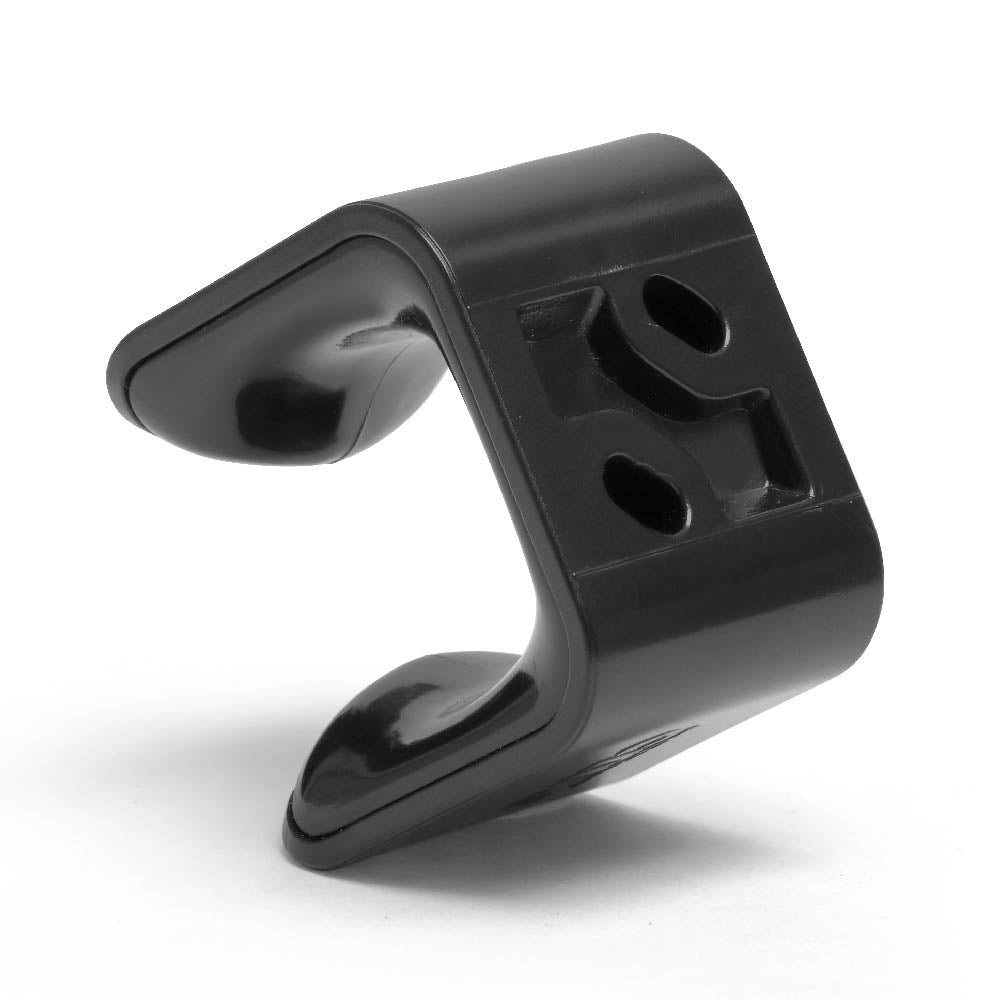 CLUG roadie
Fits tyres 23mm-32mm (1-1.25")
The CLUG roadie has been designed for road, touring, and race bikes. It works with your floor to store your bike either vertically or horizontally. CLUG mounts in minutes using the screws and wall plugs provided. The roadie can be fixed on brick wall, drywall or stud. CLUG goes by the actual tyre width not the manufactures stated width, so make sure to measure your tyre before buying.
Always measure your tyre.
We go by the ACTUAL tyre width not the manufacturer's size which is often less than stated, so please make sure to measure your tyre before buying if you are close to the top or bottom of the range.
Read more
Have a question? Look at our FAQs
WHAT IS CLUG?
The Eurobike award winning CLUG is the world's smallest bike rack. Our wall mounted bike storage solution, CLUG, works with your floor to store your bike vertically or horizontally. You won't believe something so small works so well, but it does. All you do is roll your bike up, and 'CLUG' it in. It's like a hug for your bike! Available in five sizes ranging from 23-81mm, the CLUG mounts in minutes using the screws and wall plugs provided. It really is the simplest and neatest way to store your bike. #CLUGanywhere
How to choose your Clug
We designed the CLUG to be a great fit with just about every bike tyre out there. We sell five versions of the CLUG - one to fit standard road bike tyres between 23 and 32mm (1" - 1.25") and one to fit hybrid tyres between 33 and 43 mm (1.3" - 1.7"). We also have three different MTB CLUG's to fit big fat mountain bike tyres between 1.8 - 3.2'' (43mm and 81mm). CLUG holds bikes up to a maximum weight of 20kg (if you need a roadie it's up to 13kg).
How to install
It's super simple! Just follow the instructions inside the box or check out the link below to view the steps online. CLUG fixes in place with two screws (screws and wall plugs are included). You'll be up and clugging in no time. Click here to view our "Fitting Instructions" in a new window, where you can then print them off.
Best Bike Accessories
Eurobike Awards
Check out our Roadie video
How do you measure your tyre?
Tyre manufacturers almost always exaggerate their tyre sizes whereas we use ACTUAL tyre size. To find out how to measure your tyre and find out the size of CLUG you need, watch our video.
Frequently Asked Questions
CLUG is built to store your bike in two ways horizontally or vertically. Once it is lined up vertically beneath the CLUG, push the front wheel into the CLUG. You cannot CLUG a bike vertically with the front wheel on the floor because the front wheel will twist and the bike will fall down! To store horizontally roll your rear tyre (backwards) into the CLUG, making sure the bike is perfectly straight.
The critical measurement is your ACTUAL tyre width. Armed with this measurement pick CLUG with the appropriate range. To make things more complicated than they should be, especially for MTB riders, tyre manufacturers often overstate their tyre sizes. For example, a tyre stated to be 2.4" will often measure 2.2". If that's the case, please go for the CLUG mtb (rather than the CLUG mtb XL) as you will appreciate the snugger fit. The easiest way to measure tyre width is with callipers.
Unfortunately tape won't work as it is not strong enough. We do however have a Vacuum Mount launching in Autumn/Winter 2020, which may be able to help if your wall surface is smooth. Keep an eye out on @thehornit Instagram page. We're hoping to launch it in Autumn/Winter 2020.
No, please note that CLUG cannot hang your bike, it doesn't work that way. CLUG works with your floor to store your bike. That said CLUG has been used by the likes of Schwalbe and Profile Design to store spare wheels neatly and accessibly.
Hornit in the wild!
#Hornit on your photos for the chance to feature on our Instagram.
Total 5 star reviews: 151
Total 4 star reviews: 18
Total 3 star reviews: 9
Total 2 star reviews: 2
Total 1 star reviews: 0
94%
would recommend these products
Clug hybrid

Works just as described, clever bit of kit. No more bikes stacked on top of each other getting scraped!

Zachary N.

Verified Buyer

Works well, very stable

Easy to install, and it fits my 47mm tires (measured wider) perfectly.

Darren C.

Mtb clug

The clugs are easy to fit, great design and super easy to use.

However the Mtb clug was too small and the XL was way too big for my tyres.

Maybe the sizing on the packaging needs a review.

That said they are a great product and the customer service was amazing 👍👍

HU

Hornit UK

I'm sorry you weren't able to find a CLUG that fit your tyre. Its unusual but sometimes a tyre might just fall in between two sizes. If this happens we are always happy to process a refund.
Reviews Loaded
Reviews Added