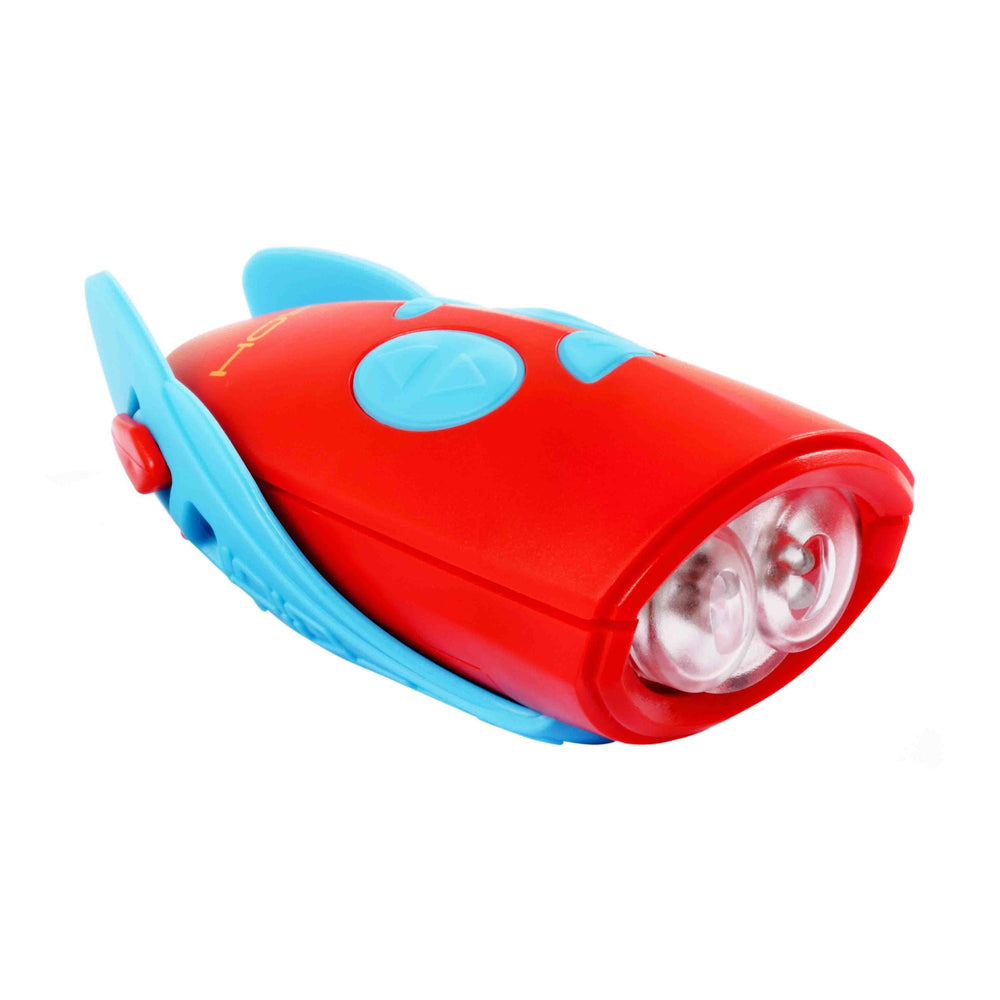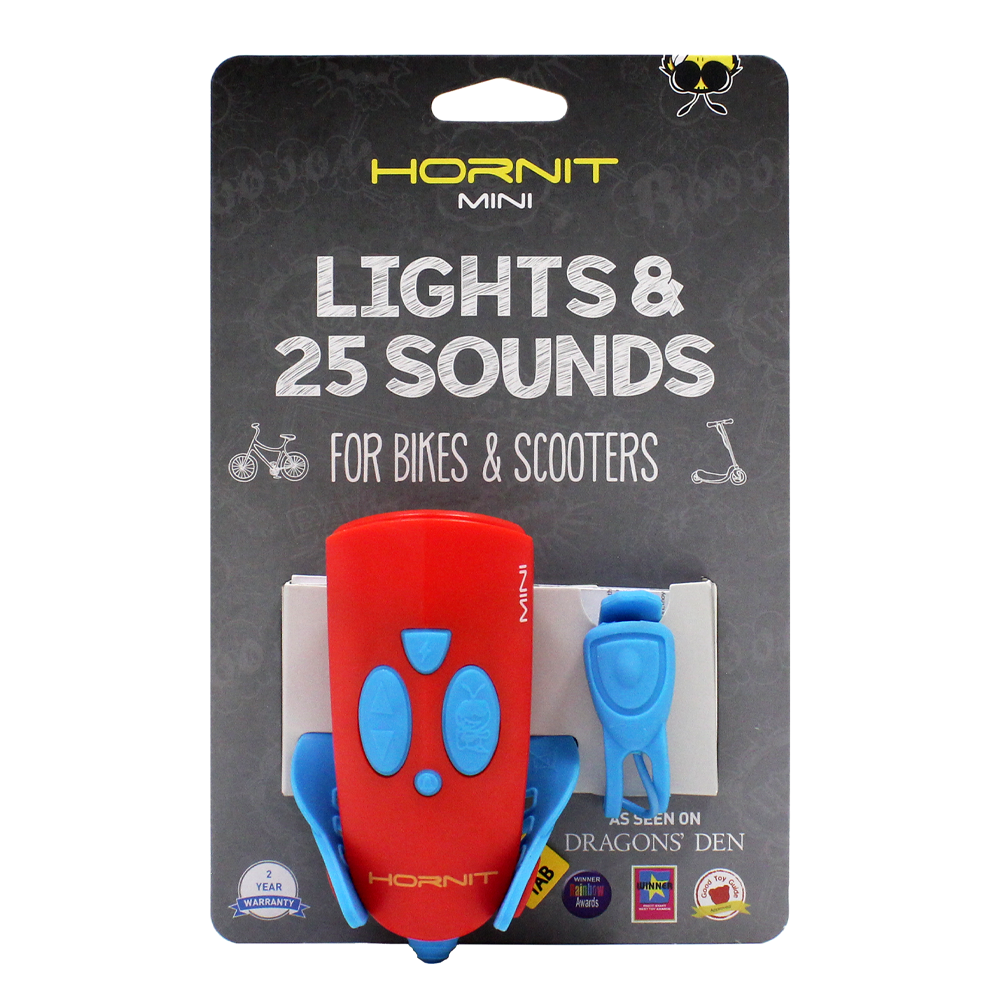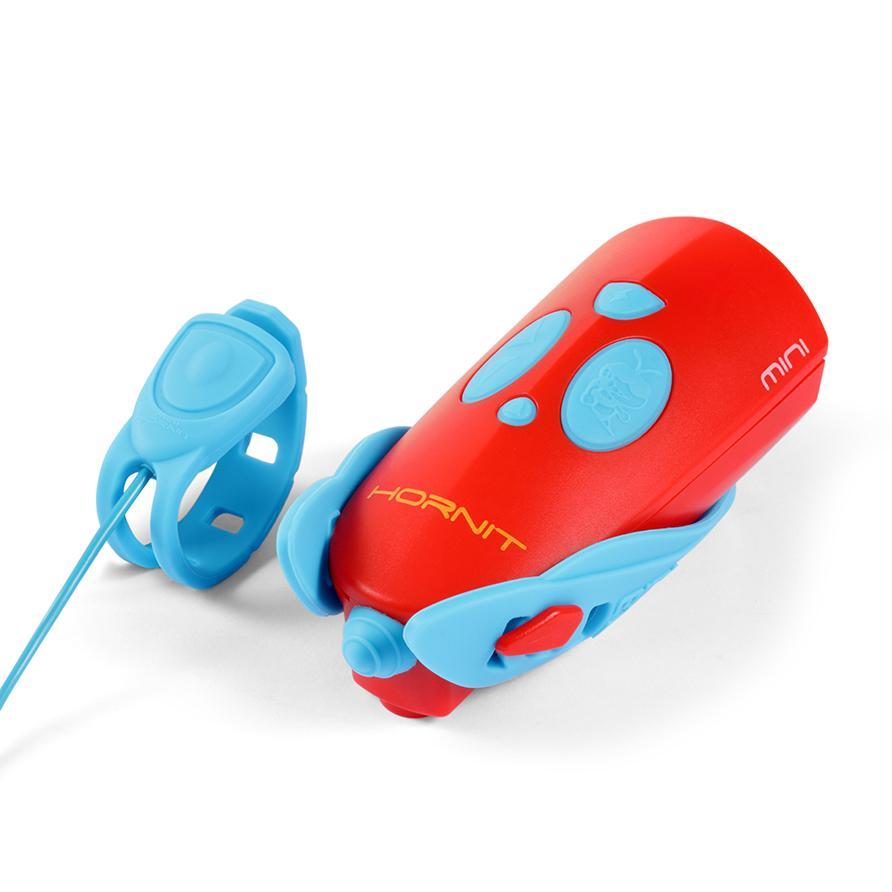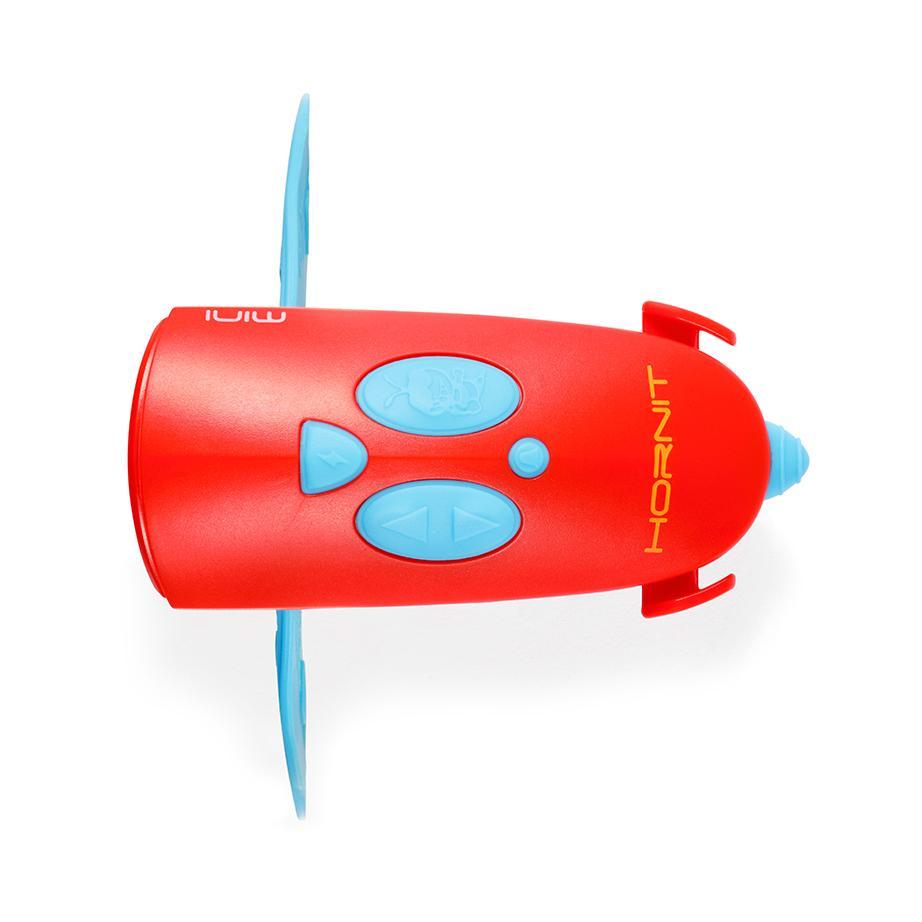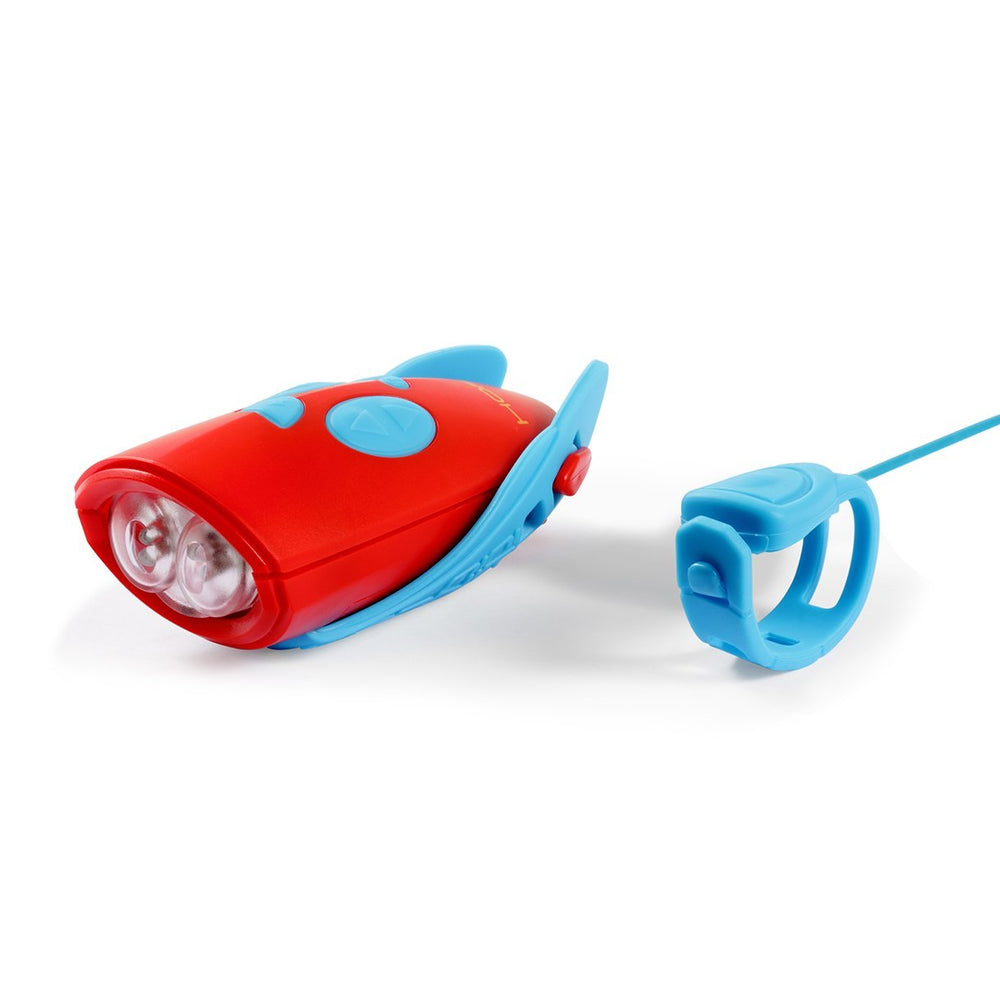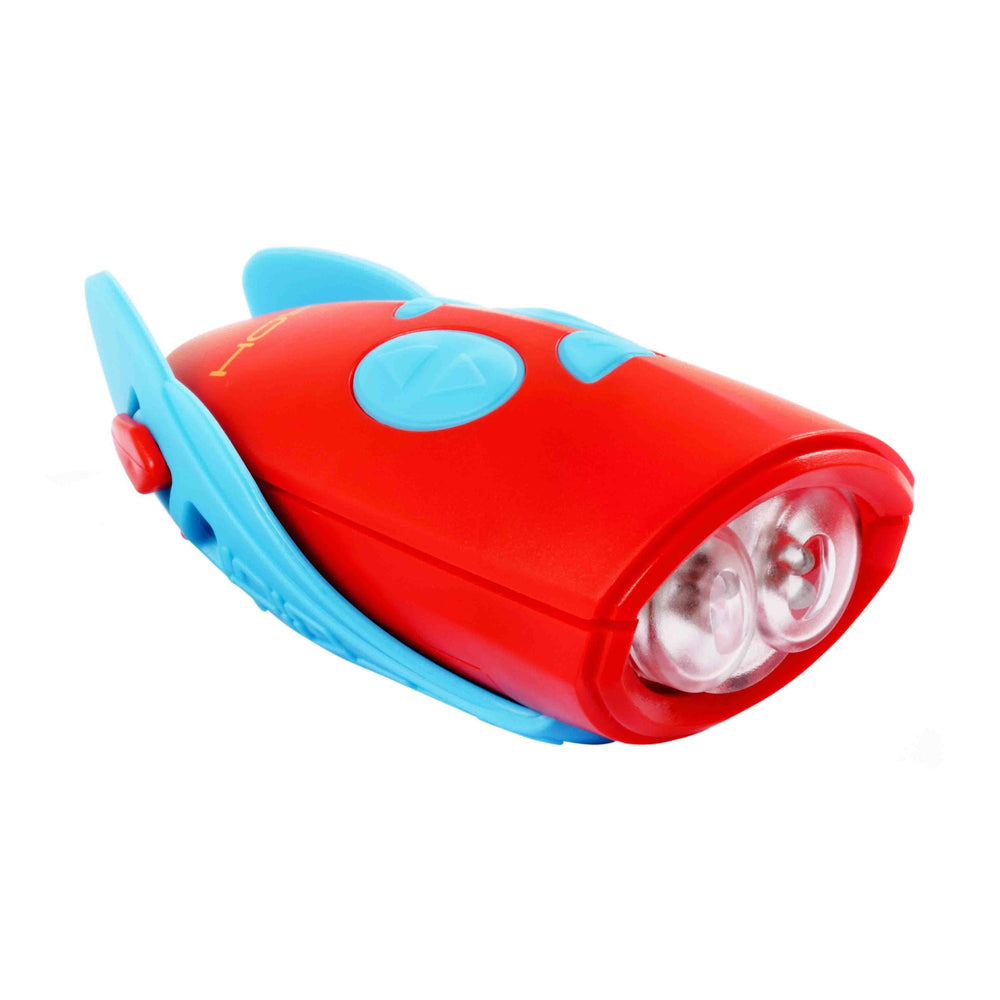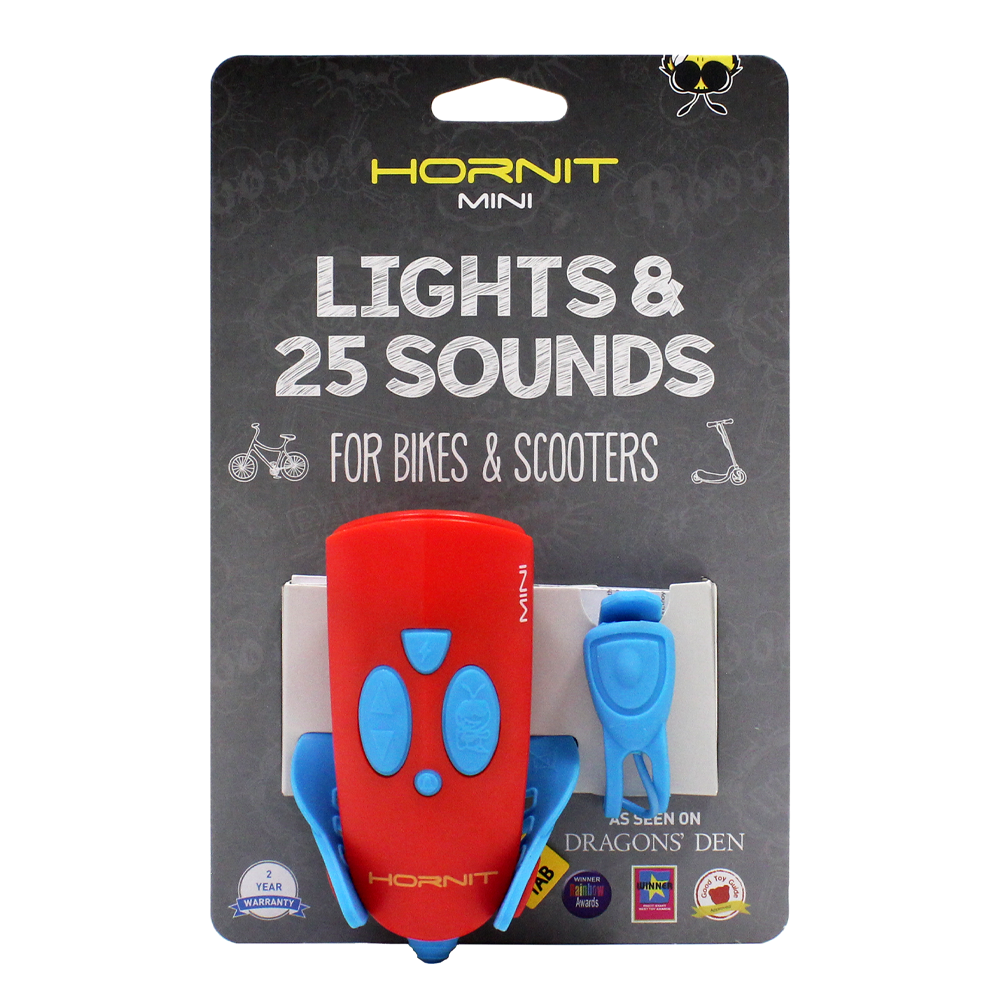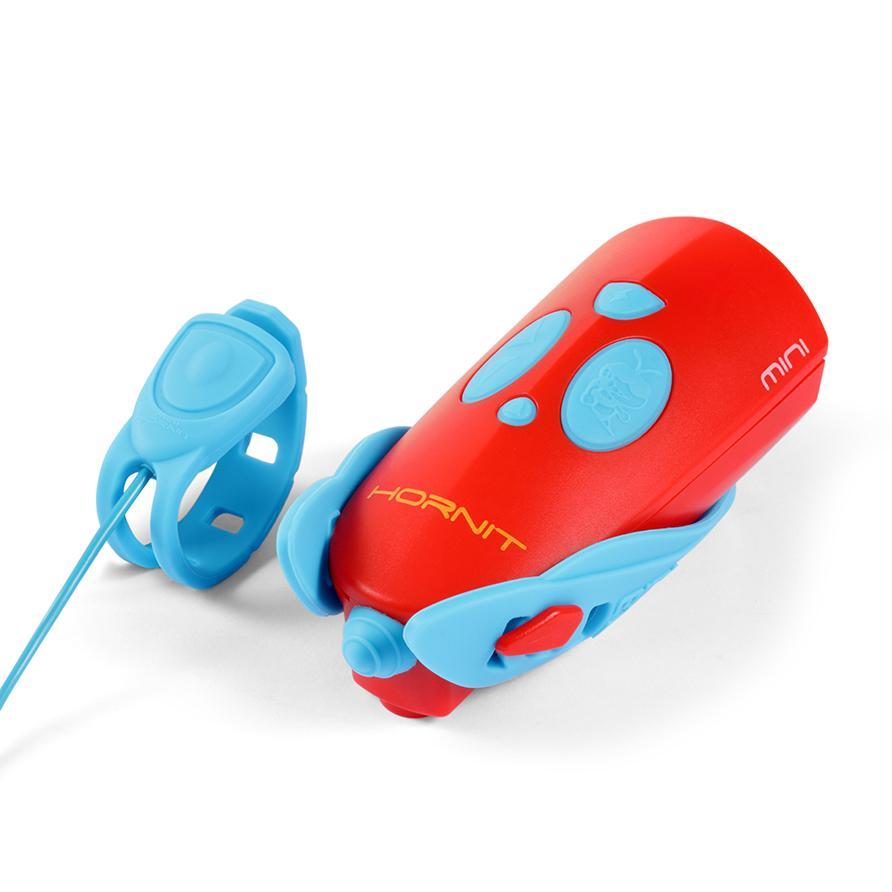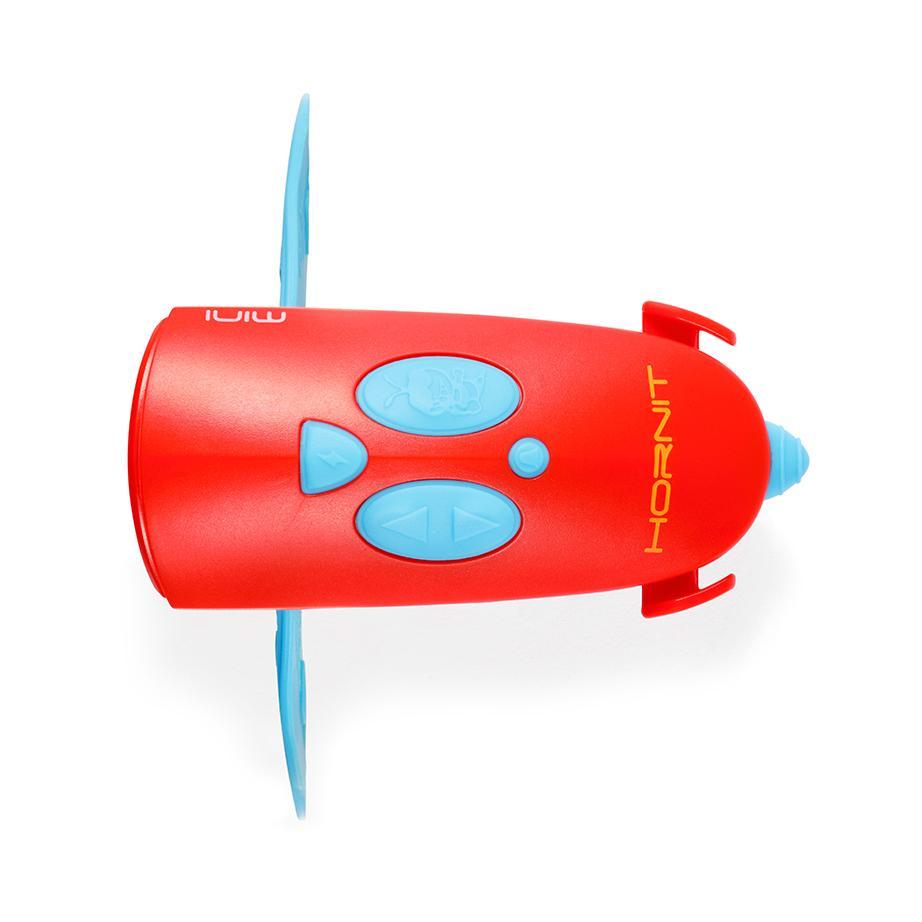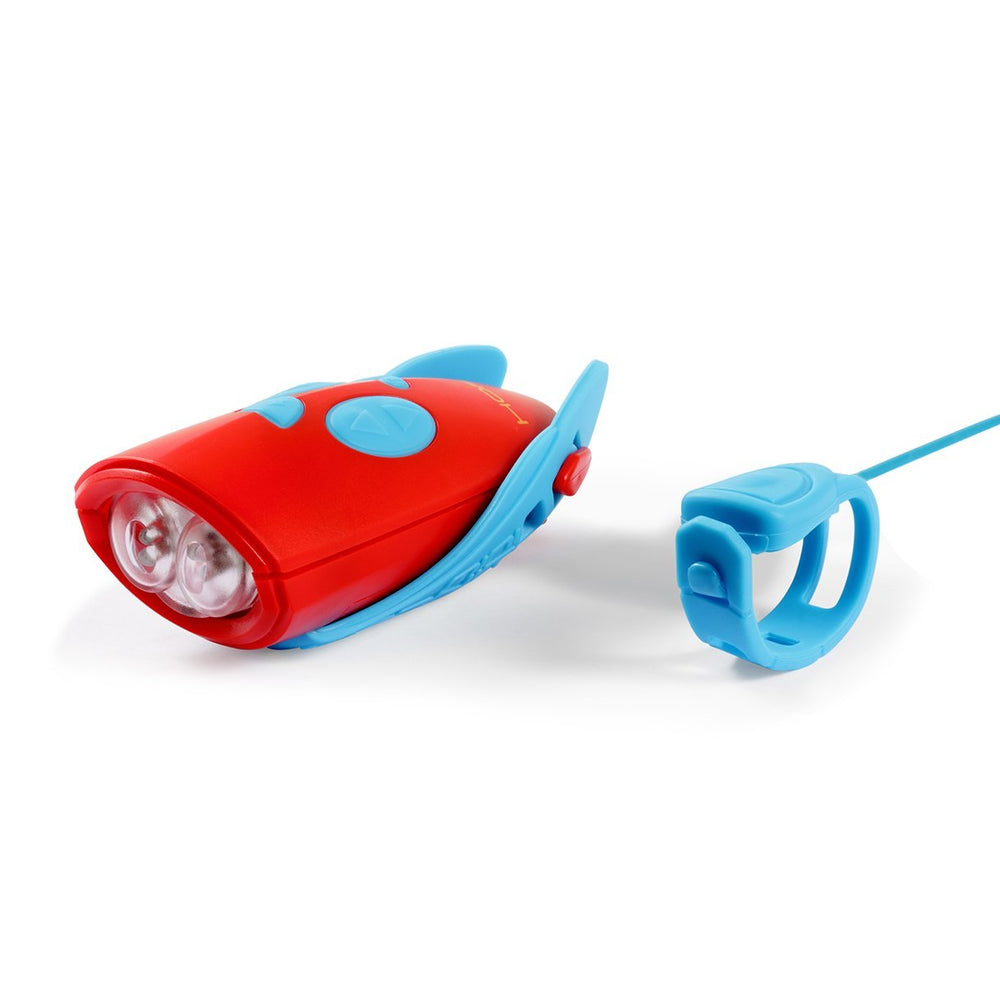 MINI Blue | Red
The blue and red MINI will lead the way on any family bike ride and take you all on an exciting adventure into the savannah. Encounter elephants, hunt with the wolf pack or wander into the lion's lair in a few clicks of the remote trigger. The MINI lights up their imaginations almost as much as it lights the way ahead ... in flashing green and white.
/
Have a question? Look at our FAQ's
THE WORLD'S WILDEST BIKE HORN
The MINI is the ultimate lights and sound effects accessory for children's bikes and scooters. Loaded with 25 sounds and white and green lights, your child's imagination will run wild!
Unit colour - Blue/Red
Wings clip on to fit all bikes and scooters
White safety lights (12 lumens)
Funky green lights (12 lumens)
25 sound effects
Remote trigger (no need to take hands off handlebars)
IP33 (weather proof)
Further Information
Technical Specifications:
| | |
| --- | --- |
| 25 SOUNDS | Bike Bell - Olé Trumpet - Racing Cars - Police Siren - Motorbike - Laser - Helicopter - Fire Engine - Fart - Magic Spell - Aeroplane - Hooter - Burp - Wolf - Rooster - Lion - Elephant - Horse - Hornet - Magic Carpet - Bomb Drop - Reversing Truck - Train - Klaxon - Zapper. |
| DIMENSIONS & WEIGHT | HORN 98mm(l) x 44mm(w) x 36mm(h) 60g / TRIGGER 355mm(l) x 20mm(w) x 9mm(h) 10g |
| BATTERIES | 2 x AAA batteries 24g |
| COLOURS | Available in 4 Colours (turquoise, blue, red and black.) |
| TOTAL WEIGHT | HORN 98mm(l) x 44mm(w) x 36mm(h) 60g / TRIGGER 355mm(l) x 20mm(w) x 9mm(h) 10g |
| INGRESS PROTECTION RATING | IP33 Protection from splashed water and solid objects greater than 2.5mm in diameter |
Frequently Asked Questions
Our Hornit Mini is toy-tested to make it safe for children's sensitive ears, and so it much quieter than the Hornit dB140 and Hornit LITE which are designed to be heard by drivers in heavy traffic. The decibel range is 75-80dB. There are 3 volume settings – loud, medium and quiet. Just press the sting at the rear of the main unit.
We have a 2-year warranty on all of our products so if you are within this period contact us on info@thehornit.com. Accidents do happen and so if you are outside of our warranty period, you can easily get a replacement part in the Hornit Mini area of our website.
The two stretchy wings fit around all bikes and scooter handlebars and will keep the Hornit Mini securely in place. It has been designed so children can mount and remove the Hornit Mini in seconds.
On a scooter, the child's hands are much closer together and so a remote trigger isn't normally needed for their thumbs to safely reach the buttons. However, on a bike, it's rarely easy to mount the Hornit Mini next to their hands so the trigger enables them to make the selected sound safely (without having to take their hands off the handlebars).
Summer fun award
Wicked Uncle
Total 5 star reviews: 123
Total 4 star reviews: 5
Total 3 star reviews: 0
Total 2 star reviews: 1
Total 1 star reviews: 0
99%
would recommend these products
Reviewing

MINI Green | Blue

Grandson loved it

My grandson loved it though he hasn't quite worked out how to change the sounds - he's only two!

Sandra C.

Verified Buyer

Reviewing

MINI Green | Blue

Hornit horn

Brilliant! Bought for my grandson's birthday but couldn't resist having a play with it myself. Will be purchasing another one for his bike he keeps at his parents

Stella F.

Verified Buyer

Reviewing

MINI Blue | Red

Great variety of sounds

Kids loved the different sounds this bike horn made. Although the parents moaned, they then asked for one for the younger sibling.

Keith M.

Verified Buyer

Reviewing

MINI Pink | Turquoise

Great Birthday Present!

I recently bought this for my granddaughter, and it has been a fantastic hit, which takes pride of place on her new bike
Reviews Loaded
Reviews Added