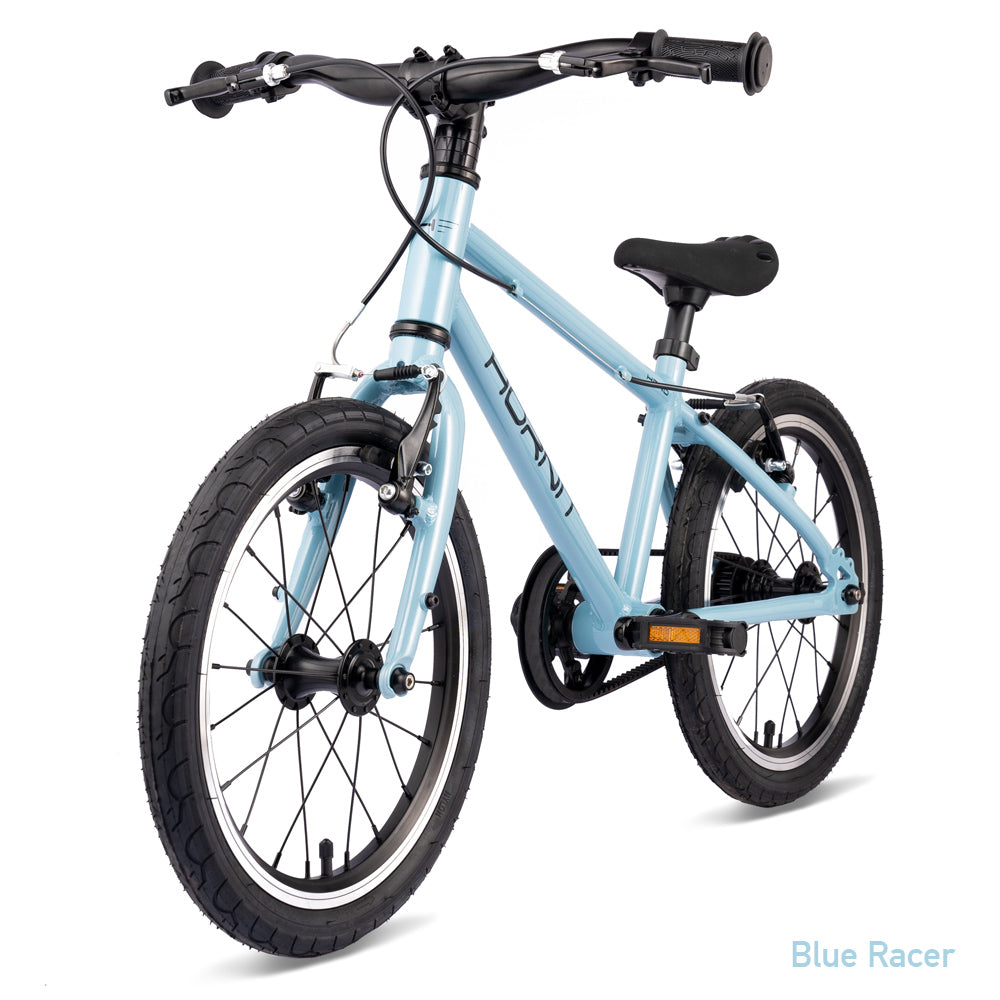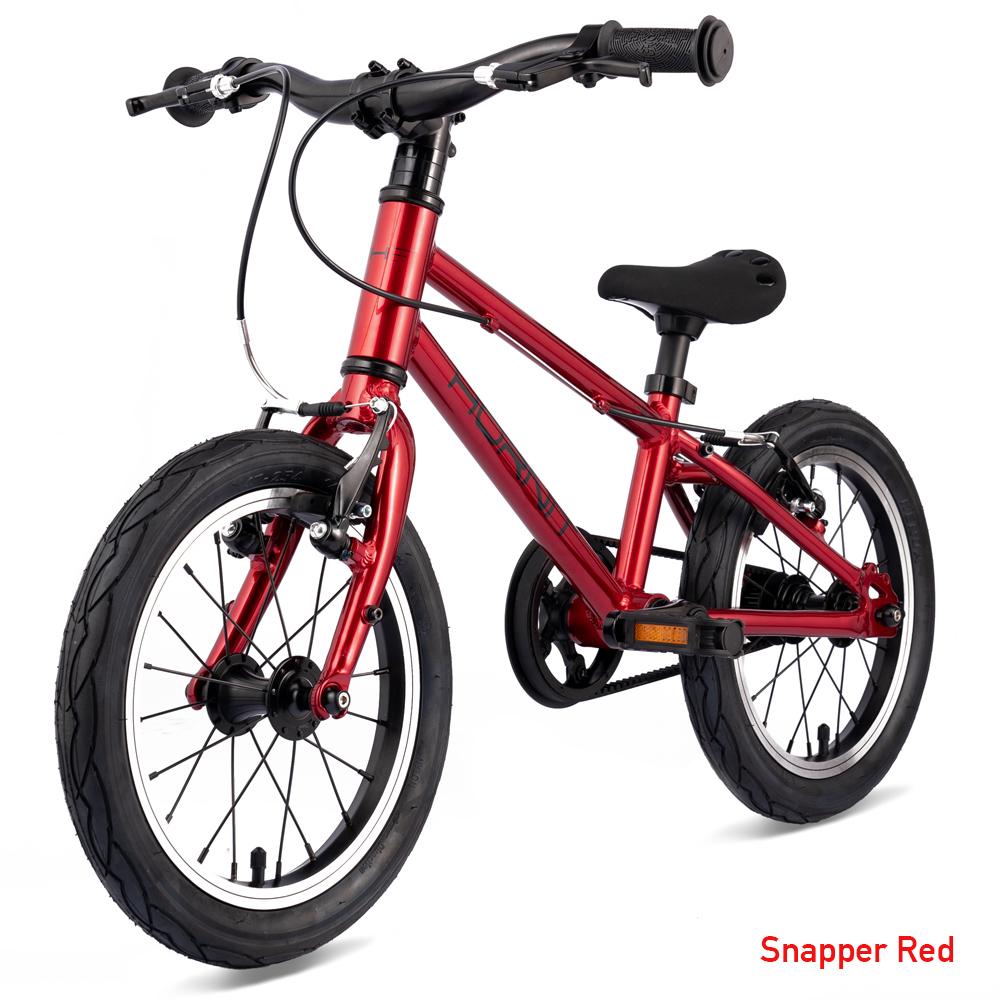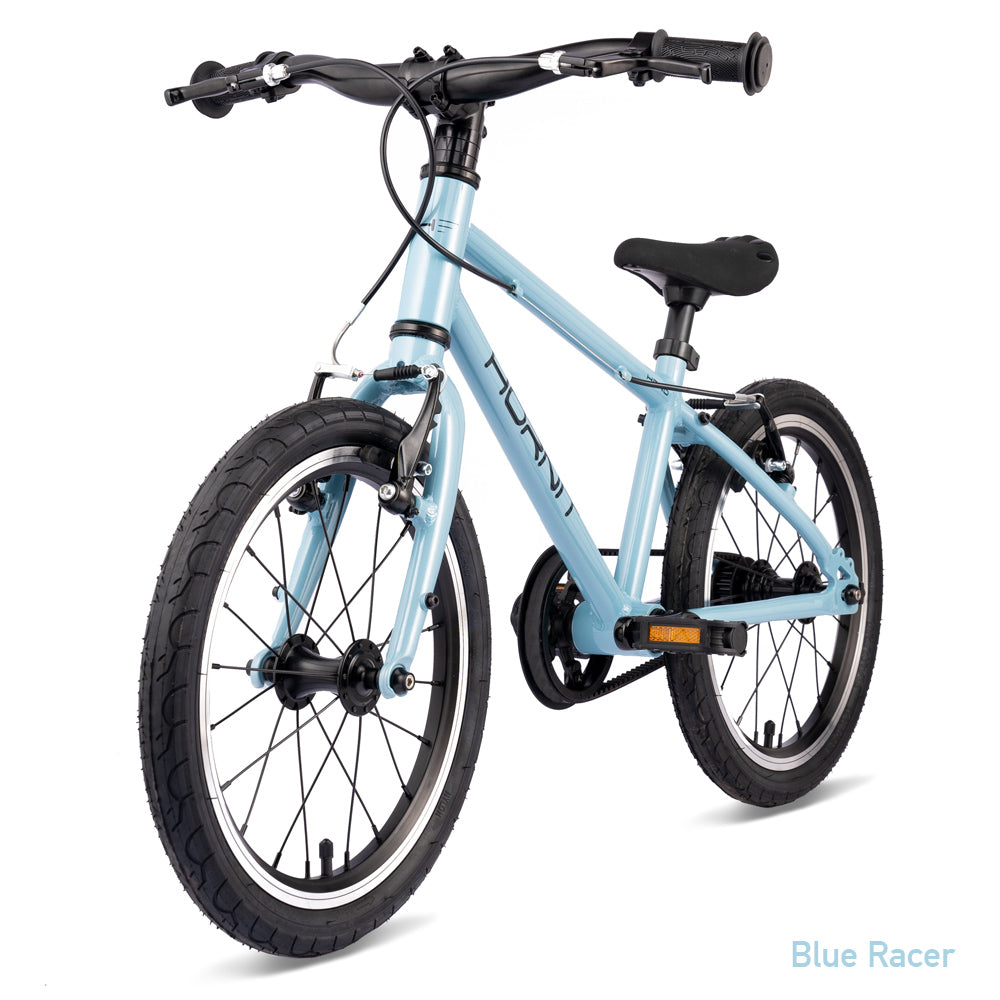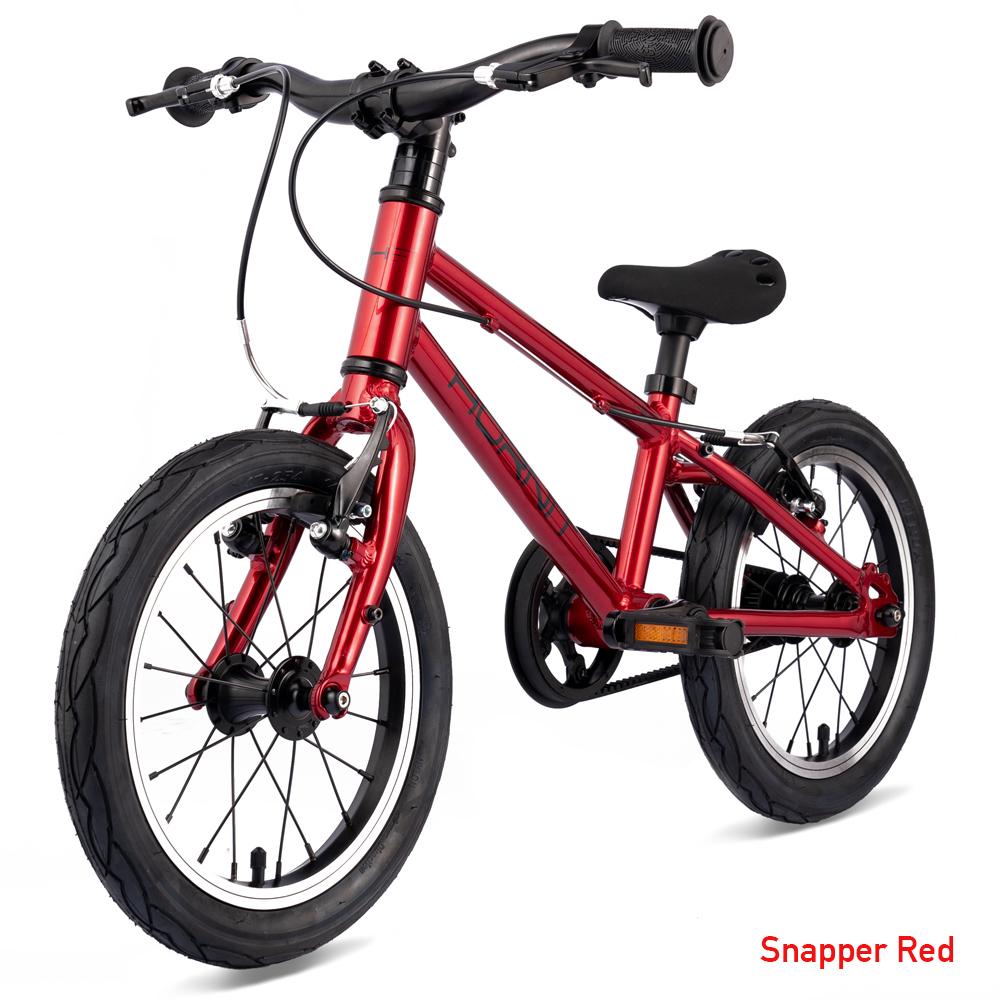 HERO 14" Pedal Bike
From £369
The HERO 14" has been designed for children with an average inside leg measurement of 34-44cm (approx. 2.5-4.5 years old). Weighing just 5.4kg, the HERO's super lightweight aluminium frame and upright riding position and slightly longer cranks make it easier for your child to manoeuvre and control with confidence, while being light enough to carry around. The premium Gates belt drive system is maintenance free so no more oily or rusty chains and is safer for inquisitive little fingers.
Not all bikes are created equal.
Beautifully proportioned, every aspect of the HERO has been carefully chosen to make cycling as enjoyable and safe as possible. Equipped with a silent, smooth belt drive system, weighing just 5.4kg and available with a free lifetime warranty for the frame and forks – the HERO 14" has been designed with children in mind.
Please note: EU delivery is currently unavailable. Due to factors outside of our control we have temporarily ceased international delivery. We apologise and hope we will be able to ship the HERO to our European friends again soon.
4 COLOURS TO CHOOSE FROM
Choose between Snapper Red, Blue Racer, Mawas Orange or Pink Dragon.
LIFETIME WARRANTY
HERO's are designed to last a lifetime which is why we offer a free lifetime warranty on the frame and forks to the original owner for as long as they own the bike. Visit our 'Warranty Information' page for more details.
The Hornit Hero is a great bike for the transition from a balance bike to a pedal bike. The geometry and components make it low weight, easy to manoeuvre and should mean minimal maintenance.
A high-quality first 'proper' bike that smooths out the tricky transition from balance bike to pedals
With a competitive price, low weight, innovative features and some great colour choices, the HERO certainly appears to be in keeping with the excellent AIRO balance bike and shows that Hornit is serious about making quality kids bikes.
Less weight, more fun.
A lighter bike is easier to learn on, easier to handle and more enjoyable to ride meaning your child will be happy to ride the HERO for longer than a heavier bike. At 5.4kg the HERO is among the very lightest 14" bikes in the market.
No more chains.
Quieter, smoother and longer lasting the HERO comes with a Gates belt drive system which is maintenance-free: no oil, no grease, no rust (ever!) and safer for inquisitive fingers too.
Perfectly proportioned.
Comfort is key, which is why the geometry of the HERO 14" has been designed to put the rider in a more upright position, making it quicker and easier to learn and optimising the riding experience.
Efficient cycling.
Fitted with longer cranks that enable gearing with a better Gain Ratio, the HERO 14" requires fewer rotations to travel the same distance when compared to a shorter crank. This makes for a more efficient ride on the flats.
Brake levers made for small hands.
Small, easy to reach, adjustable brake levers, more manageable narrow handlebars and contoured grips means better control and improved confidence.
Carefully prepared by us.
Every one of our bikes is inspected by our UK based trained mechanics who will assemble and tune your bike before it's sent to you. When it arrives, some simple assembly will be required.
Further Information
INSIDE LEG, AGE & HEIGHT
34-44cm inside leg measurement.
For kids who are 95 - 110cm tall.
Approx age: 2.5-4.5 years.
WEIGHT AND SIZE
5.4 kg with 14" wheels. Frame is 6061 Butted Aluminum.
WHEELS
Double wall aluminium alloy rims.
Sealed bearing hubs.
Double butted spokes.
HEADSET AND STEM
Japanese quality aluminium headset for smooth handling.
Short (40mm) lightweight stem for agile steering.
HANDLEBARS
Double butted aluminum riser bars.
GRIPS AND BRAKES
Ergonomic grips designed for children's hands.
Short Reach V-Brakes.
Independent Brake Sets for Front and Rear Wheels.
Adjustable Brake Levers designed for Children's hands.
DRIVETRAIN
Gates carbon drive belt drive 48/22T gearing.
Aluminium alloy cranks 105mm length.
Sealed cartridge bottom bracket.
Freewheel hub - no coaster brakes.
Optimised size, flat plastic platform pedals.
Q-Factor 144mm.
Full pedal stroke cycle distance: 70.7cm.
Aluminium belt tensioners.
SEAT
Combo seatpost saddle.
5mm Allen key seat clamp.
Adjustable seat height of 42 to 52 cm (ground - saddle top).
FORKS AND FRAME
6061 Butted Aluminum.
TYRES
Kenda 14" * 1.5" tyres for maximum grip and suspension.
Fits CLUG hybrid.
Frequently Asked Questions
You can add these as additional extras when you buy the bike. If purchased, the kickstand will come fitted to your bike already. The front and rear mudguards will come loose in the box. To fit them you will need to follow our step-by-step instructions which can be found by following the link found in the 'Mudguards Information' link at the top of the page.
Universal stabilisers can be fitted to HERO, but it is not what we recommend or stock. If your little one is 30 to 48cm then we would recommend the AIRO balance bike instead of stabilisers.
HERO pedal bike sizes are based on inside leg measurements. The 14" pedal bike is designed for an inside leg of 34-44cm (approximate age 2.5-4.5 years old). The 16" pedal bike is designed for an inside leg of 40.5-50.5cm (approximate 3.5-6 years old). The 20" pedal bike is designed for an inside leg of 48-56cm (approximate 6-9 years old). The 24" pedal bike is designed for an inside leg of 57-67cm (approximate 8-10 years old).
Belts are set at a higher tension than a chain and so feels different. Initial 'stiffness' wears off very quickly. We prefer belt drives as they are maintenance and oil free, and safer for inquisitive fingers!
Hornit in the wild!
#Hornit on your photos for the chance to feature on our Instagram.
Total 5 star reviews: 30
Total 4 star reviews: 3
Total 3 star reviews: 1
Total 2 star reviews: 0
Total 1 star reviews: 0
97%
would recommend these products
Joseph A.

Verified Buyer

Reviewing

HERO 24" Pedal Bike ("EX-DISPLAY")

Great Second Bike!

I bought this bike for my rapidly growing 6 year old son. It is an little bit of a "stretch" in comparison to his previous bike which he was much too big for. However, he is enjoying the rollability of the bigger wheels and using the gears on gradients or speedier sections and I am certain this bike will build his cycling confidence, competence and fitness over the next couple of years. Great to have the belt transmission for ease of function and cleaning. Had the spent 30 mins adjusting the front brake which was rubbing when first purchased but otherwise a pleaded owner.

A W.

Verified Buyer

Reviewing

HERO 20" Pedal Bike

Great Service

My granddaughter loved the bike.

Elizabeth R.

Verified Buyer

Reviewing

HERO 20" Pedal Bike ("EX-DISPLAY")

Brilliant first geared bike for kids

This bike is so well thought out for kids.

it has a simple to understand gear system - 3 gears on a hub, meaning you can change gear whilst stationary. It's a great way to introduce kids to gears.

instead of a chain there's a belt drive - no grease or oil to worry about.

The components are top quality and well put together, totally recommend this bike.

Added to this is Hornit's impeccable customer service.

Many thanks for getting my child out and about on their first geared bike.

Kayleigh E.

Verified Buyer

Reviewing

HERO 16" Pedal Bike ("EX-DISPLAY")

Great bike, if a little bumpy getting it

Fantastic bike. We had issues after ordering it as they contacted to say they actually didn't have any in stock. Luckily they then found one last bike. It had issues after putting together which required us to get it seen by a mechanic. The mechanic told us the belt had been adjusted a bit too tight. Hornit paid for the mechanic's time but were not willing to offer us anything as compensation for the time or trouble which we did find a bit disappointing. We were assured it was the red colour which my son particularly wanted however after seeing a friend with the exact same bike it would seem this is probably the orange, as the friend's is a darker red. They did tell us the orange and red were very similar in colour, and my son is happy so I don't really mind but again it was another mistake (unless the paint colour has changed in the last 6 months!) overall we are happy now all the issues are dealt with as it is a great bike and he's been able to ride it independently very quickly. Shame about the process though. Not sure id deal with the same company again.

HU

Hornit UK

3 months ago

Hi Kayleigh Sorry to hear you were not happy with the service you received. I tried my very best to fix the issue you had with the least amount of disruption (the mechanic took less than 24 hours and picked up and returned the bike to your home address). But I am pleased that your son is happy with his bike. Katie
Reviews Loaded
Reviews Added